Episode 4: Hopkins Military Academy
Reality Check: "Hopkins Military Academy" never existed. The statements made on the MTV site are part of the atmosphere of "Fear". "Fear" is an entertainment show. The only reality of Fear is the participant's reactions to frightening stories and situations.
A good understanding of the difference between fact and fiction is a must! Scary stories are made up and told to the participants to increase their fear in an unfamiliar environment. The statements posted on the MTV web page are not true, they are just scary stories told to create a horror television show.
As many residents of Virginia know, this episode of Fear was filmed at a military academy in this state. This historic site is heavily guarded, so an unauthorized day trip is definitely not recommended!
Please watch this episode of Fear with respect and understand that this is just a horror show. This school has strong emotional ties for many people. It was a great school that is held sacred by it's alumni. Some alumni believe some parts of the school were haunted, others disagree. No murders were ever committed there, no cadets were abused by a teacher, and there were most certainly no satanic ritual activities. The only death that I know of was an unfortunate incident in the 1950's where a young cadet was accidentally shot.
Remember - TV is not reality, and reality TV is never what it seems.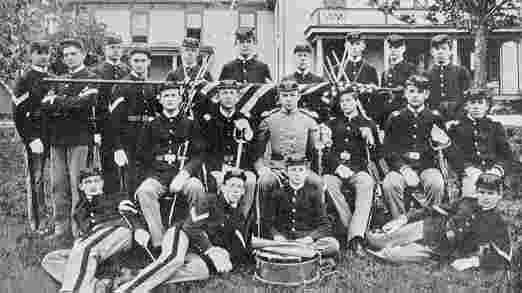 The school that Episode 4 was filmed in wasn't the house of horrors that MTV set up for the cast, but it does have a few ghost stories. Read below, ghost hunters! Grateful thanks to the members of the AMA Alumni association who shared this article with me.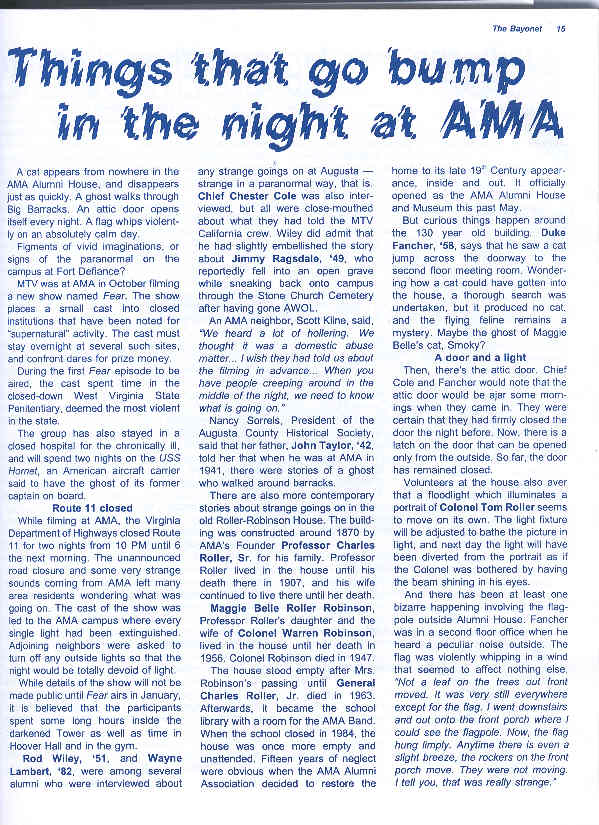 An AMA Alumni shares his feelings after watching "Fear". Thanks Michael!!
Haunted Schools
Ohio University has it's haunted Wilson Hall
Patapsco Female Institute was once a lovely school. Now it's an interesting ruin with an even more interesting story.
Salesian Prep Catholic Boys School has a shameful history and a horrifying past. See images from an investigation done by the Midwestern Paranormal Research Group at this abandoned site.
St. John University in Minnesota is one of the most haunted colleges in the country.
Stewart Indian School in Carson City, Nevada has a sad ghost story
Sweet Briar College has a number of interesting stories to tell.
Tennessee High School has a ghost named Agnes
Urbana High School has a secret tower with strange happenings
X-Project: Haunted Colleges lists various colleges across America with spooky histories.
More spooky school entries added every Tuesday - check back often!


~~ Episode 1 ~~ Episode 2 ~~ Episode 3 ~~ Episode 4 ~~
~~ Episode 5 ~~ Episode 6 ~~ Episode 7 ~~ Episode 8 ~~ Episode 9 ~~
~~ Future Episodes ~~ The Fear Experience ~~ Music ~~
~~ Suggest a location or share a ghost story! ~~
~~ Message Board ~~ Reviews and News ~~ Ghost Movies ~~
~~ Ghost Books ~~ Contest ~~ Ghost Tours ~~ Magick Page ~~
~~ Urban Exploration Info ~~ Curio Shoppe ~~
~~ Radio & Video ~~ Picture of the Week ~~ Mailing Lists ~~
~~ Sites of Interest ~~ Awards, Rings and Top Sites ~~ Guestbook ~~
This website copyright 2001 FearOnMTV. Plagiarizers will be beaten severely about the face and neck. Void where prohibited. Some assembly required. List each check separately by bank number. Batteries not included. Contents may settle during shipment. Use only as directed. No other warranty expressed or implied. Do not use while operating a motor vehicle or heavy equipment. Postage will be paid by addressee. Subject to approval. This is not an offer to sell securities. Apply only to affected area. May be too intense for some viewers. Do not stamp. Use other side for additional listings. For recreational use only. Do not disturb. All models over 18 years of age. If condition persists, consult your physician. No user-serviceable parts inside. Freshest if eaten before date on carton. Subject to change without notice. Times approximate. Simulated picture. No postage necessary if mailed in the United States. Breaking seal constitutes acceptance of agreement. For off-road use only. As seen on TV. One size fits most. Many suitcases look alike. Contains a substantial amount of non-tobacco ingredients. Colors may, in time, fade. We have sent the forms which seem to be right for you. Slippery when wet. For office use only. Drop in any mailbox. Edited for television. Keep cool; process promptly. Post office will not deliver without postage. List was current at time of printing. Return to sender, no forwarding order on file, unable to forward. Not responsible for direct, indirect, incidental or consequential damages resulting from any defect, error or failure to perform. At participating locations only. Not the Beatles. Penalty for private use. See label for sequence. Substantial penalty for early withdrawal. Do not write below this line. Lost ticket pays maximum rate. Your cancelled check is your receipt. Add toner. Place stamp here. Avoid contact with skin. Sanitized for your protection. Be sure each item is properly endorsed. Sign here without admitting guilt. Slightly higher west of the Mississippi. Employees and their families are not eligible. Beware of dog. Contestants have been briefed on some questions before the show. Limited time offer, call now to insure prompt delivery. You must be present to win. No passes accepted for this engagement. No purchase necessary. Processed at location stamped in code at top of carton. Shading within a garment may occur. Use only in well-ventilated area. Keep away from fire or flame. Replace with same type. Approved for veterans. Booths for two or more. Check here if tax deductible. Some equipment shown is optional. Price does not include taxes. No Canadian coins. Not recommended for children. Prerecorded for this time zone. Reproduction strictly prohibited. No solicitors. No alcohol, dogs, or horses. No anchovies unless otherwise specified. Restaurant package, not for resale. List at least two alternate dates. First pull up, then pull down. Call toll free before digging..
Do not taunt Happy Fun Ball.