Episode 4: Hopkins Military Academy
Reality Check: "Hopkins Military Academy" never existed. The statements made on the MTV site are part of the atmosphere of "Fear". "Fear" is an entertainment show. The only reality of Fear is the participant's reactions to frightening stories.
A good understanding of the difference between fact and fiction is a must! Scary stories are made up and told to the participants to increase their fear in an unfamiliar environment. The statements posted on the MTV web page are not true, they are just scary stories told to create a horror television show.
As many residents of Virginia know, this episode of Fear was filmed at a military academy in Virginia. This historic site is heavily guarded, so an unauthorized day trip is definitely not recommended!
You can, however, officially visit the museum at the school, and I enourage you to do so. Please consider leaving a donation when you visit to assist in the $250,000 renovation costs associated with this site. The renovation of this Augusta County landmark was accomplished by the AMA Alumni Association , Inc., a non-profit Virginia corporation. The museum opened in May, 2000. The facility is open to the public, free of charge, on Wednesdays, Saturdays and Sundays from 10 to 5. It is handicapped accessible. Phone 540-248-3007 for additional information.

Please visit with respect - this school has strong emotional ties for many people. Augusta was a great school that is held sacred by it's alumni. Some alumni believe one part of the school did have a ghost; others disagree. No murders were ever committed at Augusta, no cadets were abused by a teacher, and there was most certainly no ritual activities. The only death that I know of was an unfortunate incident in the 1950's where a young cadet was accidentally shot.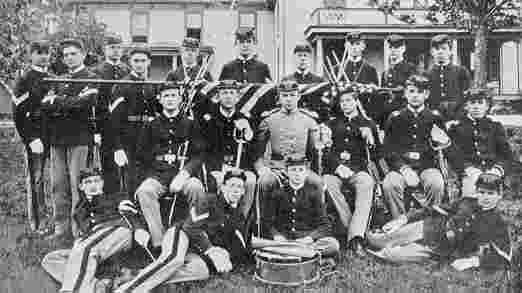 Haunted Schools
Augusta isn't the only school to have it's share of ghosts....
Ohio University has it's haunted Wilson Hall
Patapsco Female Institute was once a lovely school. Now it's an interesting ruin with an even more interesting story.
Salesian Prep Catholic Boys School has a shameful history and a horrifying past. See images from an investigation done by the Midwestern Paranormal Research Group at this abandoned site.
St. John University in Minnesota is one of the most haunted colleges in the country.
Stewart Indian School in Carson City, Nevada has a sad ghost story
Sweet Briar College has a number of interesting stories to tell.
Tennessee High School has a ghost named Agnes
Urbana High School has a secret tower with strange happenings
X-Project: Haunted Colleges lists various colleges across America with spooky histories.
More spooky school entries added every Tuesday - check back often!

~~ Episode 1 ~~ Episode 2 ~~ Episode 3 ~~ Episode 4 ~~ Episode 5 ~~
~~ Future Episodes ~~ Music ~~ Message Board ~~
~~ Reviews and News ~~ Ghost Movies ~~ Ghost Books ~~
~~ Contest ~~ Ghost Tours ~~ Magick Page ~~
~~ Urban Exploration Info ~~ Curio Shoppe ~~
~~ Radio & Video ~~ Picture of the Week ~~ Mailing Lists ~~
~~ Sites of Interest ~~ Awards, Rings and Top Sites ~~ Guestbook ~~